W. Wesley Eckenfelder Graduate Research Award
2020 Recipient: Joseph E. Weaver
Faculty Advisors: Dr. Francis L. de los Reyes, III and Dr. Joel J. Ducoste, BCEEM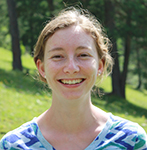 Joseph Weaver worked as a software engineer for nine years before attending graduate school to study environmental engineering with Drs. Francis de los Reyes III and Joel J. Ducoste. He is particularly interested in solving environmental problems through beneficial microbial behavior, and his work combines his former career as a programmer and his current training in microbial ecology.
Within the wet lab, Joe operated long-term environmental bioreactors treating wastewater and analyzed both the physical and microbial structures of their bacterial communities. In the dry lab, Joe developed and integrated software ranging across image analysis, bioinformatics, and computational fluid dynamics/biokinetics to both analyze and simulate those same communities.
Throughout his work, Joe formally mentored numerous undergraduate assistants, many of whom are now beginning their own graduate careers. As a former Boy Scout, Joe has also enjoyed assisting during annual Boy and Girl Scouts of America engineering events. He plans to continue in academia and establish a research program inspired by the material cycles of nature which closes the waste loop using biological waste treatment.
---
Past Recipients
| | | |
| --- | --- | --- |
| Year | Recipient | Advisor |
| 2019 | Christopher Lawson | Katherine McMahon |
| 2018 | Andrew Pfluger | Junko Munakata-Marr and Linda Figueroa |
| 2017 | No recipient | |
| 2016 | Dr. Matthew Verbyla | |
| 2015 | Bryan D. Coday | Tzahi Cath, Colorado School of Mines |
| 2014 | Maureen Kinyua | Sarina Ergas, University of South Florida |
| 2013 | Roland Cusick | Bruce Logan, Pennsylvania State University |
| 2012 | Xie He | Francois de los Reyes, North Carolina State University |
---
This award is given annually to recognize an environmental engineering or environmental science graduate student whose research contributes to the knowledge pool of wastewater management. The award selection will be based on original, innovative research of publishable quality and other factors as provided below.
Both Master's and Ph.D. students are eligible. The award will consist of a plaque and a cash honorarium of $1,500.00 for the student and a plaque for the faculty advisor. A $500.00 travel allotment to student recipients who attend the AAEES Excellence in Environmental Engineering and Science awards ceremony will also be provided. This award selection committee is administered jointly by AEESP and AAEES, and is co-sponsored by HDR. Eligible applicants will be judged based on academic program performance (45%), professional or community service (15%), project significance (25%), purpose and goals (10%), and any other evidence provided (5%). An applicant remains eligible up to one calendar year following graduation and receipt of the degree earned.
Electronic nomination packages should include: (1) A letter from the faculty advisor of the applicant, indicating that the applicant has completed all substantive requirements for the graduate degree sought, and has earned a minimum GPA of 3.3/4 in the current program, (2) Two academic letters of recommendation, detailing the contributions of the research to the profession, (3) Copy of a publication (or manuscript submitted for publication) derived from the subject research for which the applicant is the first author – 25 page limit, (4) A professional resume of the student applicant, listing all professional affiliations, publications, honors, service, and relevant experience, and (5) An applicant-prepared statement of professional purpose in pursuing the graduate degree and goals for the first five years of professional practice – (limit 500 words).
Questions may be directed to the chair of the AAEES Foundation Awards Committee:
Charles N. Hass, Ph.D.
Department of Civil, Architectural, and Environmental Engineering
Drexel University
e-mail: haas@drexel.edu; Tel: 215-895-2283
Professor Wesley Eckenfelder, Jr. is considered the "godfather" of industrial wastewater management. He was a great colleague and mentor to numerous practitioners, professors, and students. His prolific contributions to the environmental engineering discipline included writing over thirty books, serving as a principal in several environmental engineering firms, and receiving twenty-eight awards from a wide range of professional societies. In addition, Dr. Eckenfelder was an accomplished professor with a teaching career that included positions at Manhattan College, the University of Texas at Austin, and Vanderbilt University. He was known internationally as an early developer and innovator of biological treatment technology that is now considered a standard skill employed by practicing professionals, worldwide.