Paul F. Boulos Excellence in Computational Hydraulics/Hydrology Award*
*Formerly known as the Innovyze Excellence in Computational Hydraulics/Hydrology Award
2020 Paul F. Boulos Excellence in Computational Hydraulics/Hydrology Award Recipient:
Jonathan L. Bradshaw, Ph.D.
Advisor: Dr. Richard Godfrey Luthy, P.E., BCEE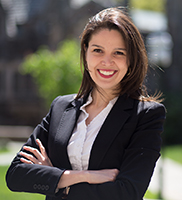 Jon's professional goal is to improve environmental management decisions. Toward that goal, he develops and applies computational tools to inform decisions about water and energy systems.
Currently, Jon is a Senior Strategic Analyst at Pacific Gas & Electric (PG&E) in San Francisco, California. In that role, he develops and applies models to forecast the adoption of emerging energy technologies, namely rooftop solar, battery storage, and electric vehicles. His team works with groups across PG&E and the California Energy Commission to plan the state's transition toward a carbon-free energy future.
Prior to joining PG&E in October 2019, Jon had been conducting research at Stanford University since 2013. As part of the ReNUWIt NSF Engineering Research Center at Stanford, Jon collaborated with several water utilities to build and apply new modeling tools that improve water reuse infrastructure planning. From 2010-2013, he worked in environmental consulting in the Washington, DC, area. Jon has published several articles on water and energy system modeling in peer-reviewed journals and industry publications.
Jon works to advance diversity and inclusion, particularly within technical fields, through leading and joining various initiatives at Stanford and PG&E.
Jon has earned BS, MS, and PhD degrees in Civil & Environmental Engineering from Princeton University and Stanford University. He also holds an MS in Management Science & Engineering from Stanford.
---
Past Recipients
| | | | |
| --- | --- | --- | --- |
| Year | Recipient | Advisor | School/University |
| 2019 | Dylan Wood | Ethan Kubatko | The Ohio State University |
| 2018 | Ahmed Abokifa | Pratim Biswas | Washington University of St. Louis |
| 2017 | Qian Zhang | William P. Ball | Johns Hopkins University |
| 2016 | Jennifer Jefferson | Reed Maxwell | Colorado School of Mines |
| 2015 | Amy Dale | Elizabeth Casman and Gregory Lowry | Carnegie Mellon University |
---
This award is given annually to recognize a student whose research contributes to the knowledge pool of in the area of Computational Hydraulics & Hydrology. The award selection will be based on original, innovative research of publishable quality and other factors listed below. Both Master's and Ph.D. students are eligible.
The award will consist of a plaque and a cash honorarium of $1,500 for the student and a plaque and cash honorarium of $500 for the major faculty advisor. A $500 travel allotment is provided to the student recipient to attend the American Academy of Environmental Engineers & Scientists (AAEES) Excellence in Environmental Engineering and Science Awards Luncheon. The award selection is administered jointly by a committee consisting of equal numbers of AAEES and AEESP members. The award is co-sponsored by Innovyze, the global leader in smart wet infrastructure modeling and management tools.
Eligible applicants will be judged based on the following criteria:
academic program performance (35%),
research accomplishment (35%),
professional or community service (15%),
purpose and goals (10%), and
any other evidence provided (5%).
An applicant remains eligible up to one calendar year following graduation and receipt of the degree earned.
Complete nomination packages should include:
Academic letter of recommendation from the faculty advisor of the applicant detailing the contributions of the research to the profession and also indicating that the applicant has completed all substantive requirements for the graduate degree sought, and has earned a minimum GPA of 3.3/4 in the current program,
One additional academic letter of recommendation,
Copy of a publication (or manuscript submitted for publication) derived from the subject research for which the applicant is the first author – 25 page limit,
A professional resume of the student applicant, listing all professional affiliations, publications, honors, service, and relevant experience, and
An applicant prepared statement of professional purpose in pursuing the graduate degree and goals for the first five years of professional practice – (limit 500 words).
Questions may be directed to the chair of the AAEES Foundation Awards Committee:
Charles N. Hass, Ph.D.
Department of Civil, Architectural, and Environmental Engineering
Drexel University
e-mail: haas@drexel.edu; Tel: 215-895-2283