The W. Brewster Snow Award
2019 W. Brewster Snow Award Recipient: Monica C. Resto-Fernandez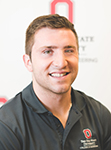 Monica C. Resto-Fernandez is currently a candidate for a Master's degree in Environmental Engineering at Mercer University with a graduate concentration in Engineering for Development. She received her Bachelor of Science in Civil Engineering from the University of South Florida in 2016 with an Environmental Engineering concentration, graduating Magna Cum Laude.
Monica's Master's thesis project involves a preliminary investigation of a 400 km2 mountainous study area in the San Juan province of the Dominican Republic and an assessment of water resources in the area, with the overall objective to investigate how bacteriological contamination enters the domain of mountain springs in the study area. Her research and teaching interests are in global water, sanitation, and hygiene (WASH); groundwater flow, especially mountainous hydrology and hydrogeology; self-supply in water; water quality; aqueous geochemistry; geology; appropriate technologies; and sustainable international development.
During her time at Mercer University, Monica has co-led several international research-service-learning trips to the Dominican Republic, working with local communities and teaching Mercer undergraduate students diverse aspects of WASH, Latin American culture, and Spanish language.
Following completion of her Master's degree this year, she plans to pursue a PhD in Environmental Engineering, working on research at the intersection of international development, hydrogeology, and water systems. Her career plans include working on international development projects that focus on improving groundwater quality as a vital resource for developing communities, and then returning to academia to shape engineering and geoscience student theoretical and practical knowledge learning as a university professor.
---
Past Recipients
| | |
| --- | --- |
| Year | Recipient |
| 2018 | Maria Briones |
| 2017 | No recipient |
| 2016 | Gregory Hinds, Advisor: Dr. Sarina Ergas |
| 2015 | John Trimmer |
| 2014 | Abhinav Gupta |
| 2013 | Dustin Bales |
| 2012 | Sarah Ness |
| 2011 | John Maxwell |
---
This award is given annually to recognize an environmental engineering graduate student who has made significant accomplishments in an employment or academic engineering project. The award consists of a plaque and a $250 cash prize. Nominees for this award must be enrolled part or full time in an environmental engineering graduate program pursuing a Master's degree in Environmental Engineering or a closely related degree program, or have completed a Master's in Environmental Engineering, or a closely related program, one year or less from January 1 of the year in which the Brewster Snow Award is presented. Eligible applicants will be judged based on academic program and performance (45%), professional or community service (15%), engineering project accomplishment (25%), purpose and goals (10%), and any other evidence provided (5%).
Electronic nomination packages should include: (1) a nomination form; (2) a transcript verifying that the student has achieved a minimum GPA of 3.3 (on a 4.0 scale) in Master's degree program coursework; (3) Documented successful completion of the Fundamentals of Engineering Exam; (4) Two academic letters of recommendation; (5) Evidence of active participation in a student or regular chapter of an engineering related professional society, or evidence of active participation in school, community, or organized religious activities; (6) An applicant prepared summary of accomplishment in an engineering project in the candidate's workplace employment if a part time graduate student or recently graduated Master's degree recipient, or an applicant prepared summary of accomplishment in a graduate engineering thesis, project, study or the equivalent approved by the student's major advisor or graduate coordinator (limit 1 page); (7) An applicant prepared statement of purpose in pursuing a Master's degree and goals for first 5 years of professional practice; (8) Any other evidence of merit, papers, honors, recognition, etc.
Questions may be directed to the chair of the AAEES Foundation Awards Committee:
Ed Bouwer, Ph.D.
Department of Environmental Health and Engineering
Johns Hopkins University
e-mail: bouwer@jhu.edu; Tel: 410-516-7437
---
William Brewster Snow, Ph.D., P.E., DEE
William Brewster Snow was born in Durham, N.C. on November 22, 1910. Horace North and Sue Blake (Sheetz) Snow were his parents. He attended Morehead Grammar and Central High Schools in Durham.
He was educated in civil engineering at Duke University and was awarded a B.S. C.E. in 1932. Since the engineering department was initiated in 1927, he was one of the first students to have a Duke engineering degree conferred.
During the Great Depression period from 1934-37 he was employed as a rod man and then instrument man with the N. C. State Highway and Public Works Commission. Close to his 26th birthday, he married Edith Horne Leach on November 28, 1936. Brewster and Edith raised a son and daughter, William Brewster II and Sabin Tucker Snow.
From 1937-41, he served as Assistant Division Engineer and Registered Public Health Engineer with the GA Department of Public Health. He enrolled in the graduate program at Harvard University and was also an Assistant Engineer with Boston Consulting Engineer Samuel M. Ellsworth during the construction of sanitary facilities at Camp Edwards (Massachusetts) and the Naval Construction Training Camps at Davisville, RI. He was awarded the Masters of Science (Sanitary Engineering) from Harvard in 1942.
From 1943-46, he was an Acting Associate Professor Sanitary Engineering, School of Public Health, University of N. C., Chapel Hill, N.C. He served on the Program Committee and the instructional staff of the 1943 and 1946 Annual Short Schools of the NC Water Works Operators Association. During that period he performed graduate work at Harvard University and completed a ScD. (Sanitary Engineering) in 1948 with a thesis title "Biochemical Oxidation Demand of Chlorinated Sewage".
Dr. Snow was an Associate Professor Civil Engineering in the College of Engineering at Duke University from 1948-53. In 1950 he was appointed Marshal of Duke University. He was one of the founders of the series of conferences that guided the State of North Carolina's implementation of its State Stream Sanitation Law that was passed in 1951. While at Duke, Brewster participated in a summer sabbatical at Oak Ridge National Laboratory evaluating sanitary engineering processes for radioactive wastes. He was on the organizing committee for the First and Second of the Southern Municipal and Industrial Waste Conferences and spoke at the First in 1953 with a paper on "The Biochemical Oxygen Test as an Indicator of Pollution" and to the Sixth in 1957 with a paper entitled "Ultimate Disposal of Radioactive Wastes."
In 1953 he became Head and Professor of Civil Engineering and Sanitary Engineering, Department of Civil Engineering, Rutgers University, New Brunswick, N.J. After serving as Chairman of the Department for three years he elected to step down from administration and concentrate on his stronger interest in teaching and research. To facilitate this move he hired Dr. Marvin Granstrom to succeed him.
He contributed five papers for technical journals and wrote two books, The Highway and the Landscape, 1959, B.F Sturtevant Company and On Maintaining A Trace of Residual Chlorine In Water Distribution Systems with John Charles Geyer, 1955, National Academy of Sciences, Washington, D.C. He initiated the annual New Jersey Parkway Authority conference dealing with highway and transportation engineering and participated in a summer sabbatical at Brookhaven National Laboratory on Long Island working on nuclear waste management. Dr. Snow continued as professor until he retired in 1970.
During his academic career he was invited into the following honorary societies: Phi Beta Kappa, Pi Kappa Phi, Tau Beta Pi, Chi Epsilon, Omicron Delta Kappa, Delta Omega.
Upon leaving Rutgers in 1970, he worked part time with the New York consulting firm of Lawler, Matusky and Skelly until 1975 providing quality assurance/quality control for a number of the firm's environmental reports. Throughout his career he had an unabiding interest in education of undergraduate and graduate engineers. For him, building tomorrow's engineers was more important than research.
His professional memberships included: A.S.C.E., A.P.H.A. (F), A.W.W.A., N.J. Sewage & Industrial Wastes Association., A.A.A.S., Sigma XI, A.S. E.E., N.J.S.PE., A.A.U.P. National Research Council (member Subcommittee: On water supply 1952-54). Brewster was also a member of the Mayflower Descendants.
In 1977, he established the Brewster Snow Endowment at Duke that is used for the enhancement of the environmental engineering program. The money was initially used for helping students in the summer and other non-restricted uses. In 1979 the William Brewster Snow Award was established and awarded continuously since then. It is given annually to the civil engineering graduate who has demonstrated academic excellence, interest and enthusiasm in the study of environmental engineering. He is also a past winner of the Duke University Engineering Distinguished Alumni Award.