Frederick George Pohland Medal
2020 Frederick George Pohland Medal Recipient: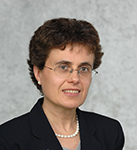 Debra R. Reinhart, Ph.D., P.E., BCEE
Pegasus Professor
Associate VP for Research and Scholarship
Director Faculty Cluster Initiative,
University of Central Florida
Dr. Debra Reinhart is a Pegasus Professor and Assistant Vice President for Research and Scholarship at the University of Central Florida and a member of the Civil, Environmental and Construction Engineering Department. She holds a B.S. in Engineering from Florida Technological University, and an M.S. in Sanitary Engineering and a Ph.D. in Environmental Engineering from Georgia Institute of Technology.
Dr. Reinhart served from 2011-2013 as the Environmental Engineering Program Director at the National Science Foundation in Arlington, Virginia. Prior to entering academia, Dr. Reinhart was a consulting engineer for Keck and Wood and CH2M Hill, both in Atlanta, Georgia. She was also Chief of the Research and Development Division of the Bureau of Pollution Control for the City of Atlanta, Georgia.
Dr. Reinhart's research area is solid waste management, with a focus on optimized waste collection and sustainable operation of landfills. Her research has been supported by grants from and contracts with both government agencies and private companies, with research support from the federal government (U.S. Environmental Protection Agency through subcontractor ARCADIS, and the National Science Foundation), core funding from the State of Florida (Hinkley Center for Solid and Hazardous Waste Management), and from the Environmental Research and Education Foundation. Dr. Reinhart is an Associate Editor for the Waste Management Journal, a member of the Managing Board of the International Waste Working Group, and a member of the Environmental Research and Education Foundation Board. In addition, she is a member of the ABET Engineering Accreditation Commission and serves as an ABET program evaluator. She has served on the American Society of Civil Engineer's Report Card for America's Infrastructure Committee for the last three report cards.
Dr. Reinhart has received national recognition from National Aeronautics and Space Administration, AAEES, the Tech Museum of Innovation, Solid Waste Association of North America and others. She is a registered professional engineer in Florida and Georgia, a Board Certified Environmental Engineer, and Fellow of the American Society of Civil Engineers and the American Association for the Advancement of Science.
Dr. Reinhart has been quite active with AAEES. In addition to her ABET volunteer efforts, she was on the AAEES Board of Trustees from 1992 - 2010 and was the President in 2009. She chaired the Environmental Engineering Body of Knowledge Task Force which produced the Environmental Engineering Body of Knowledge in 2009. She has served on numerous committees for AAEES, including Strategic Planning, Policies and Procedures, Education, Solid Waste, Membership, Development and Outreach, Awards, Nominating, and Seminars and Workshop committees, the Website Working Group and has been on the board of the Environmental Engineering and Science Foundation.
She has been a Board Certified Environmental Engineer in Solid Waste Management since 1994 and was the 2014 recipient of the Stanley E. Kappe Award.
---
Past Winners
Previous distinguished recipients of this honor include:
| | |
| --- | --- |
| Year | Recipient |
| 2019 | Spyros G. Pavlostathis, Ph.D., BCEEM |
| 2018 | Charles B. Bott, Ph.D., P.E., BCEE |
| 2017 | Daniel B. Oerther, Ph.D., P.E., BCEE |
| 2016 | Glen Daigger, Ph.D., P.E., BCEE |
| 2015 | Morton Barlaz, Ph.D., P.E., BCEE |
| 2014 | C. P. Leslie Grady, Jr., Ph.D., P.E., BCEE |
| 2013 | H. David Stensel, Ph.D., P.E., BCEE |
| 2012 | Michael K. Stenstrom, Ph.D., P.E., BCEE |
| 2011 | John T. Novak, Ph.D., P.E., BCEE |
| 2010 | David W. Jenkins, Ph.D., P.E., BCEE |
| 2009 | Louis J. Thibodeaux, Ph.D., P.E., BCEE |
| 2008 | Makram Suidan, Ph.D., P.E., BCEE |
| 2007 | George Tchobanoglous, Ph.D., P.E., BCEE |
| 2006 | C. Herb Ward, Ph.D., P.E., BCEE |
| 2005 | Raymond C. Loehr, Ph.D., P.E., BCEE |
| 2005 | R. Rhodes Trussell, Ph.D., P.E., BCEE |
---
About the Frederick George Pohland Medal
This award honors an individual who has made sustained and outstanding efforts to bridge environmental engineering research, education, and practice. Only members of AEESP and/or the American Academy of Environmental Engineers and Scientists (AAEES) are eligible to receive this award. The award will consist of a medal, a $1000 cash award, and reimbursement of travel costs of up to $1,000 for travel to the award ceremony.
Nominations must be made by members of AEESP and/or AAEES. Nomination packages should include: (1) a cover letter from the nominator; (2) a full curriculum vitae for the nominee; (3) and at least two, but not more than five, additional letters of recommendation. Past nominations will be carried over and considered for three years and can be modified during this period.
Dr. Frederick G. Pohland (1931-2004) was Professor at the Georgia Institute of Technology and Professor and Edward R. Weidlein Chair of Environmental Engineering at the University of Pittsburgh. Fred's research led to fundamental advances in anaerobic processes. He received numerous honors and awards and was the author of more than 150 technical and scientific publications. Dr. Pohland was elected to the National Academy of Engineering in 1993 for advancing the theory of anaerobic treatment processes and applications to solid waste management. Committed to applying research to practice and disseminating vital information, Dr. Pohland founded and chaired International Water Association (IWA) Specialist Committees to bring together practitioners, researchers and educators. Fred Pohland was a valued colleague and very dedicated to advancement of the profession of environmental engineering.
AAEES and AEESP thank the Pohland family and other donors to the Frederick George Pohland Memorial Fund for their generosity in establishing this award.